REV

OLUTION and i

REV

OLUTION
WE WENT THE OTHER WAY AROUND
A SAIL IS BETTER THAN ANOTHER WHEN: SHE IS FASTER, SHE IS LIGHTER, SHE IS LONGER LASTING, SHE IS NOT INSANELY EXPENSIVE
...WE HAVE JUST GOT THEM ALL!
LAMINATION
Somebody went FILMLESS… WHY?
Is Taking away the mylar film in a sail giving any of the above benefits..?
Or… maybe… were they just afraid of early delamination?
Would you ever delete the cement from the reinforced concrete of your house simply because the builder does not feel very confident?
Or better look for a proper builder?
We strongly believe in our in-house-proprietary-made-in-Italy  lamination process!
WHY?
SIMPLE: laminating a sail of any other brand, normally based on thermoplastic adhesives, takes a few hours .
The whole process of iREVOLUTION may take up to several weeks for a single sail which has to rest under vacuum and controlled humidity and temperature.
STRUCTURAL SKIN

With such a powerful tool in hour hands , we emphasized the film function : adding a stabilized light TNT to the mylar we create  the structural skin.
No more a simple taffeta or protective layer , or a grey or black paint which is just cosmetics, but a strong , stable ,light outer layer which allows the sail to:
absorb compression loads too while sailing;
keep fibers in proper place even when the sail is crumpled inside a Bag;
keep the shape in proper position much much longer.
PROPER SIZE FIBERS
Some went for SPREADED THE FIBERS… WHY?
Is reducing the diameter of the fibers giving the sail some of the above benefits?
Or maybe because filaments are so thin…
it is difficult to concentrate fiber in the hi-load areas ?
they need a lot of glue because the outer area is much bigger..?
they may rip like toilet paper along the breaking line when flapping a bit more than usual..?
DYNEEMA® SK 90 FIBERS
Some still go for FULL CARBON SAILS….WHY?
FORGET about it: do you know that carbon has a specific weight 3 times than dyneema®?
Would you like having on your boat a rigid, heavy ,fragile sail which doesn't adapt to different wind strength ?
Try to break one of  our 1760 or 3520 dtex  SK 90 dyneema® fibers…..even with a sharp knife…!
NON

CONTINUOUS FIBERS
Some, following the myth of "CONTINUOUS FIBERS" FORGOT to fix the fibers into the sail…  leaving them free to slide everywhere… so the sail "breaths" and her shape changes all the time.
Our two components polymer is connecting the surface of the fibers into a solid "NET" remaining soft inside at the same time.
NON

MOULDED SAILS
Some insist on moulded sails… but probably forgot that:
a sail has to be symmetric on starboard and port…
for a proper lamination you need lot of pressure…
WE LIKE PERFECT SYMMETRY AND repetitiveness… the base of the speed, we do not like a sail to be flatter on the opposite tack… we like to press at 10 tons/cmq our laminates. This is only possible with flat lamination.
Our  sophisticated aeroelastic software allows to perfect match the fibers from one of our big sections to the other and a sophisticated joining technique makes the joint the strongest part of the sail.
Don't you know a big airplane is made of jointed parts?
Don't you know all body muscles are jointed to bones through legaments ?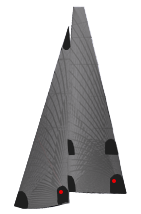 Skins: Polyester/epoxy resin on a non-woven layer, mylar film 0,75 o 1 mil.
Internal fibers: balanced mix of carbon (80% in dpi) and high modulus aramid fiber or dyneema (20% in dpi).
Grid: high modulus black aramid fiber or dyneema.
Users: racers and cruiser/racer of any size with carbon mast.
Sails: Mainsail-J1-J2-J3-J4-GL-GM-GH-Solent-Jibtop.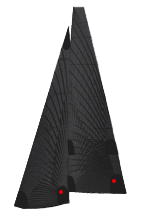 Skins: mylar anti UV da 1 o 1,5 mil and internal Polyester/epoxy resin and structural non-woven layer.
Internal fibers: balanced mix of di carbon 6k e 12 k (60% in dpi) and high modulus aramid fiber or Dyneema sk90 (40% in dpi).
Grid: Dyneema sk78 or high modulus black aramid fiber.
Users: offshore racers and cruiser/racers.
Sails: Mainsail-J1-J2-J3-J4-GL-GM-GH-Solent-Jibtop Code 0-A0-StaySail.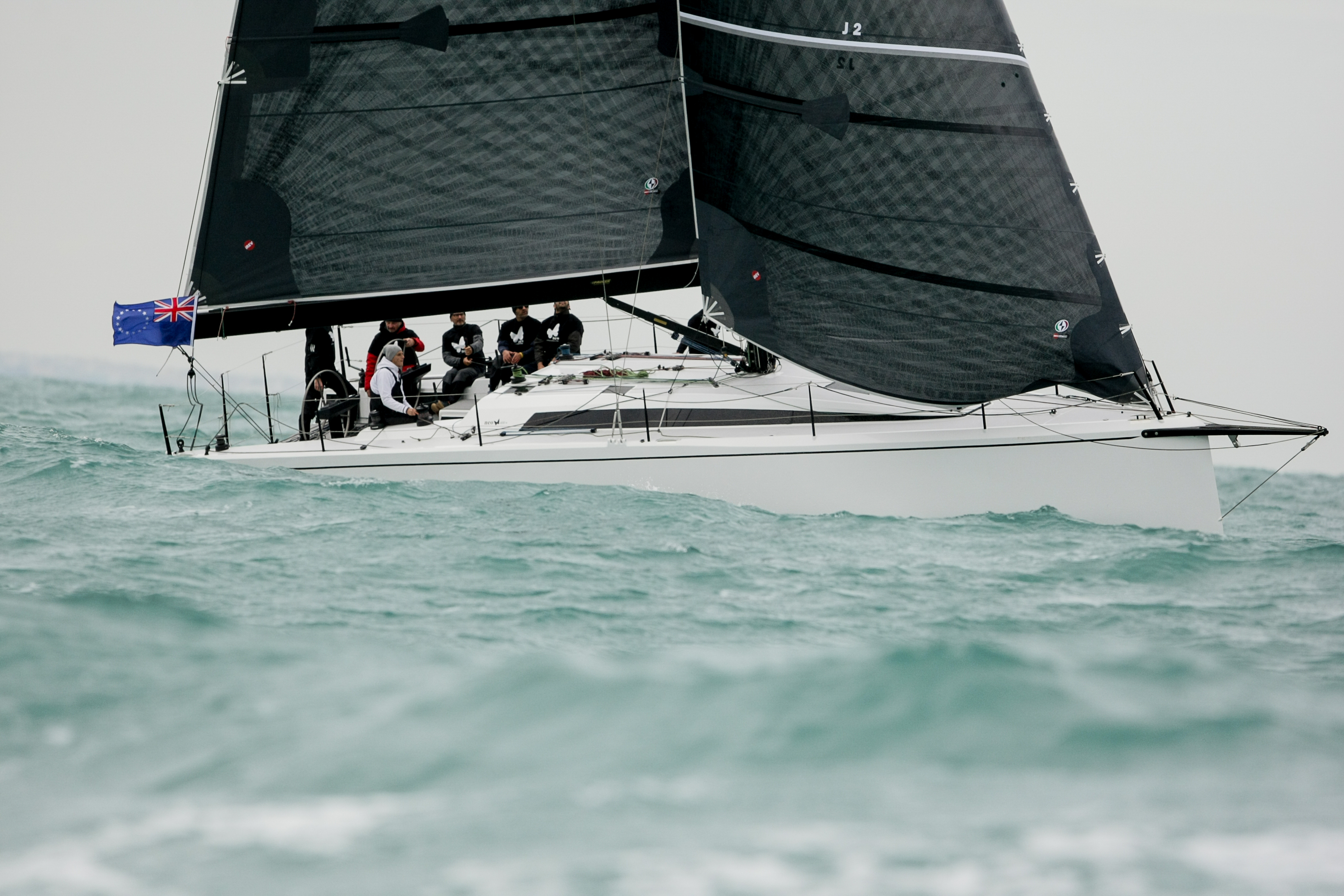 iREV - NEO 400+ Neo Yachts & Composites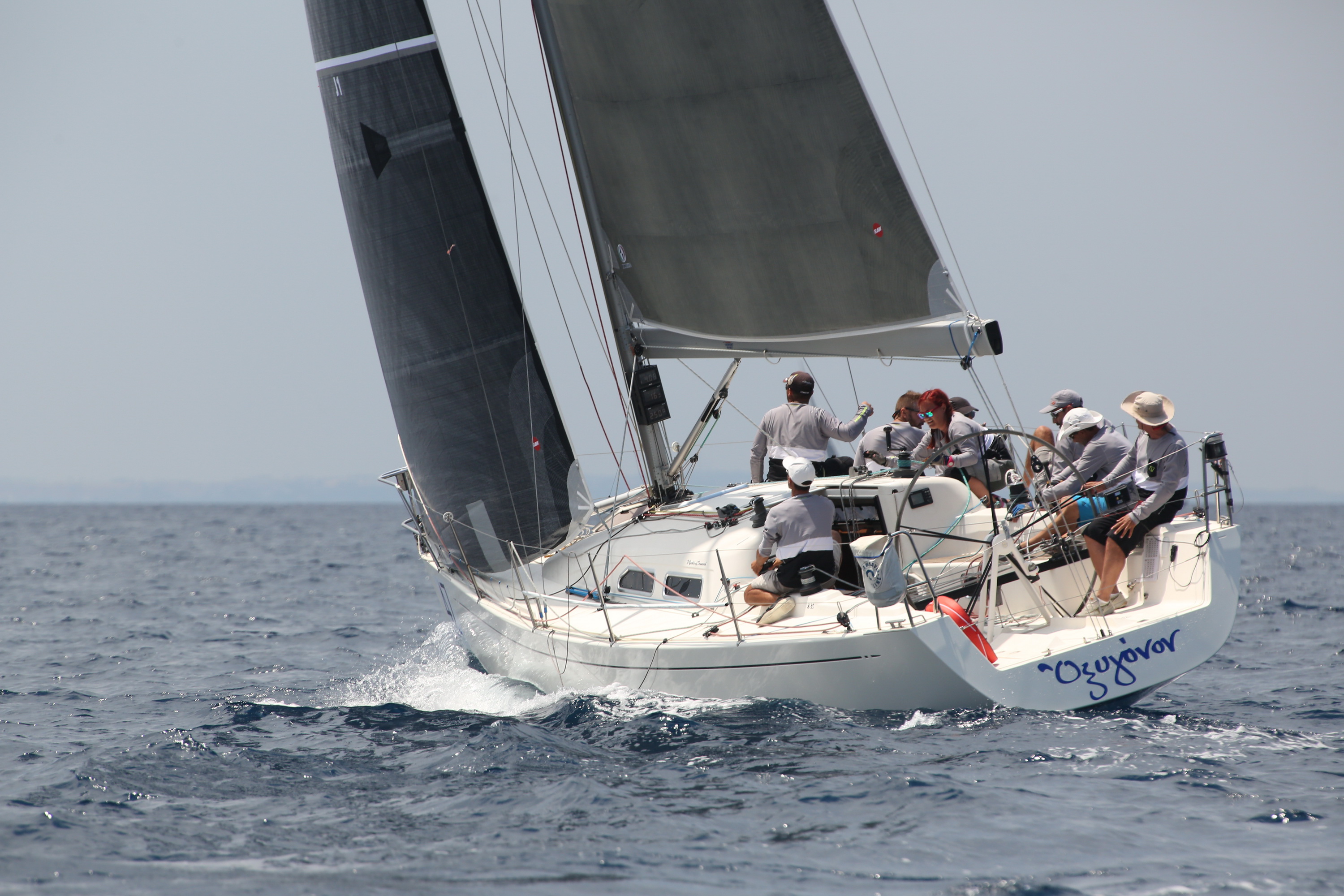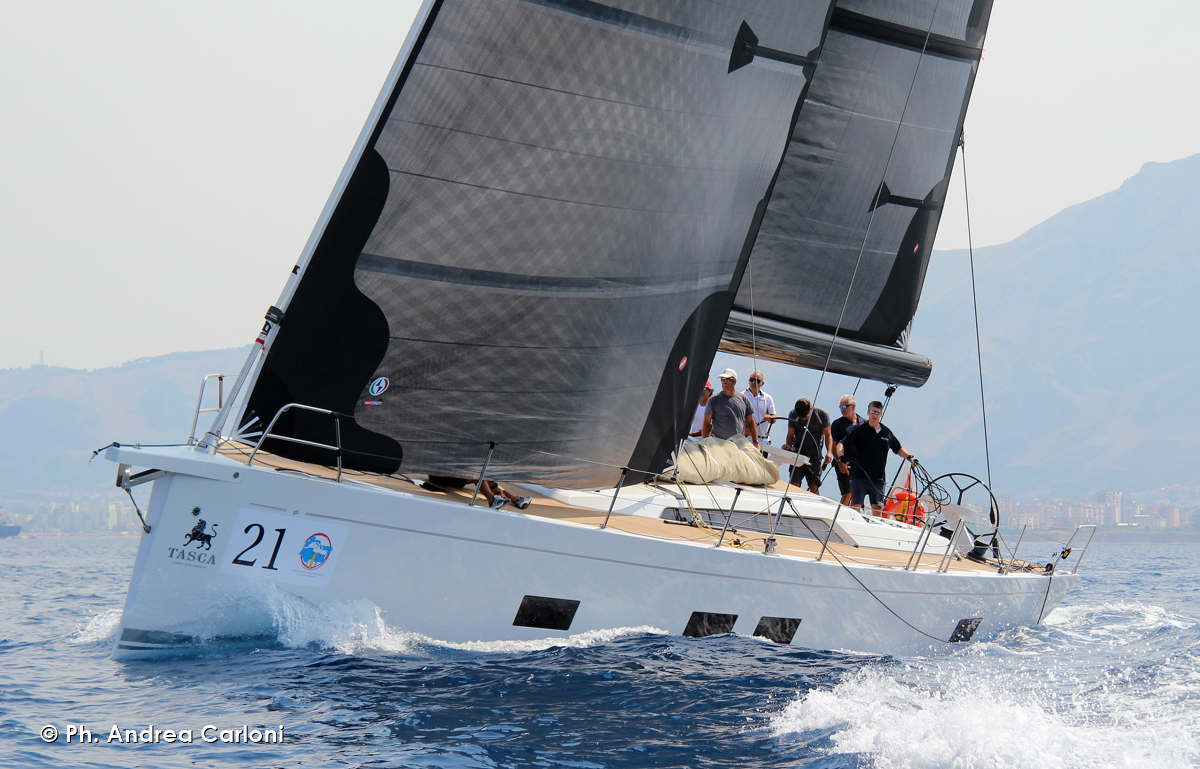 iREV - GS 58 Leaps & Bounds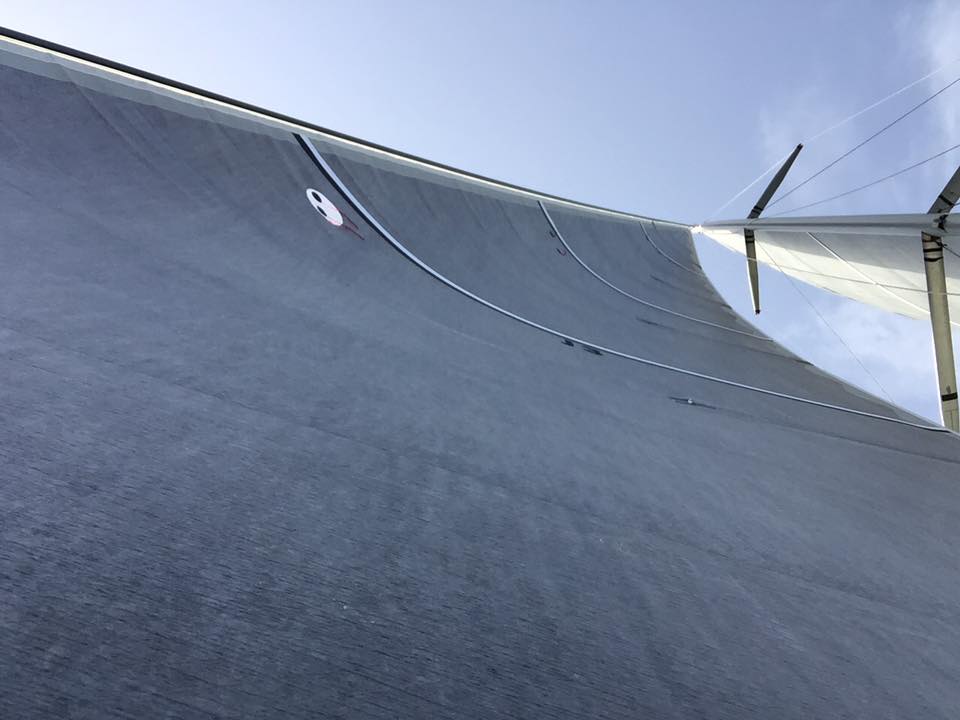 CONTACT US
for further details and quote